There is something about winter that has me stocking up on books I want to read.  I hibernate and loaf around the house when not at work, but always find time to read.  I have been a lover of books my entire life.  I have several lists of ones to read: great literature (Tolstoy has been on it for years – never read one), health-related fare (always trying to drop weight), and spiritual tomes (Thomas Merton is one of my fav's).
Culling through my lists on this snowy day, I came across books about lawyer wellness and well-being that I thought you'd enjoy if you're in the law biz.  So, here you go. They're in no particular order, so you may have to hunt for one (or more) that speaks to you. If you see one not listed that you would recommend, click on the comment button below and share it with everyone.  Enjoy!
The Happy Lawyer: Making a Good Life in the Law – Nancy Levit and Douglas O. Linder
The Happy Lawyer examines the causes of dissatisfaction among lawyers and then charts possible paths to happier and more fulfilling careers in law. Eschewing a one-size-fits-all approach, it shows how maximizing our chances for achieving happiness depends on understanding our personality types, values, strengths, and interests. Covering everything from brain chemistry and the science of happiness to the workings of the modern law firm, the authors provide invaluable insights for both aspiring and working lawyers. For working lawyers, they offer a handy toolbox—a set of easily understandable steps—that can boost career happiness. Finally, for firm managers, they provide a range of approaches for remaking a firm into a more satisfying workplace. Listen to this ABA Journal podcast interview with author Nancy Levit.
Well-Being Toolkit for Lawyers and Legal Employers – Ann M. Brafford
The Well-Being Toolkit for Lawyers and Legal Employers was created by Anne M. Brafford, founder of Los Angeles-based Aspire, a consultancy for the legal profession, in partnership with the ABA. It provides initiatives, strategies, and resources, including a concrete eight-step action plan for lawyers and legal employers. The toolkit came about after the 2017 report by the "National Task Force on Lawyer Well-Being" grabbed the attention of legal employers who saw lawyers were struggling to thrive. "They wanted to act, but many weren't sure how to get started," Brafford says. Everyone in the legal profession contributes to its culture, which can either support or harm our collective health and happiness. This makes lawyer well-being a collective responsibility; a team sport to which we all contribute. The toolkit is one more ripple in what we hope to become a growing tidal wave of positive change in the legal profession. Check out Ann's website.
The Anxious Lawyer: An 8-Week Guide to a Joyful and Satisfying Law Practice Through Mindfulness Mediation – Jenna Cho and Karen Gifford
Both Cho and Gifford began meditating as practicing attorneys and have firsthand knowledge of the difficulties and rewards of legal practice. Both also found unexpected rewards of meditation that go deeper: better self-understanding, more rewarding relationships and a deeper feeling of connection with the world. The Anxious Lawyer provides a straightforward 8-week introductory program on meditation and mindfulness, created by lawyers for lawyers. The program draws on examples from Cho and Gifford's professional and personal lives to create an accessible and enjoyable entry into practices that can reduce anxiety, improve focus and clarity, and enrich the quality of life. Listen to sample audio from the author. Check out Jenna's website. Read her article from the "Above the Law" website, "How to Work with the Anxious Brain."
The Reflective Counselor: Daily Meditations for Lawyers – F. Gregory Coffy and Maureen C. Kessler.
This 370-page meditation-a-day book is designed to help lawyers recover their spiritual strength in their hectic world. Each daily entry appears on a single page and includes an introductory quotation, followed by a reflection inspired by that quotation. Themes found in the book include overcoming fear, personal beliefs and values, maintaining integrity, personally defining success, dealing with difficult people, and common workplace challenges.
Yoga for Lawyers: Mind-Body Techniques to Feel Better All the Time – Hallie Neuman Love and Nathalie Martin.
Lawyers are twice as likely to be alcoholics than the general population, and three times more likely to suffer a heart attack. Yoga for Lawyers is here to help! Written by lawyers, for lawyers, this is a short, user-friendly yoga book focused on effective ways to de-stress every day, throughout the day, in very little time. Check out this review of the book from the Yoga Journal, "Out There: Yoga for Lawyers."  Read this article from the ABA Journal, "Attorney Meshes Her Yoga and Law Practice."
Life After Law: Find Work You Love with the J.D. Degree You Have – Liz Brown
Written by Harvard-trained ex-law firm partner Liz Brown, this book provides specific, realistic, and honest advice on alternative careers for lawyers. Unlike generic career guides, Life After Law shows lawyers how to reframe their legal experience to their competitive advantage, no matter how long they have been in or out of practice, to find work they truly love. Brown herself moved from a high-powered partnership into an alternative career and draws from this experience, as well as that of dozens of former practicing attorneys, in the book. She acknowledges that changing careers is hard much harder than it was for most lawyers to get their first legal job after law school, but it can ultimately be more fulfilling for many than life in law. Life After Law offers an alternative framework and valuable analytic tools for potential careers to help launch lawyers into new fields and make them attractive hires for non-legal employers. Listen to an audio sample read by the author. Check out Liz's website.
The Introverted Lawyer: A Seven-Step Journey Toward Authentically Empowered Advocacy – Heidi K. Brown
This book explains the differences between introversion, shyness, and social anxiety and how each manifests in the legal context; describes how the extrovert bias in law school and practice detrimentally can impact quiet individuals, fueling enhanced anxiety in a vocation already fraught with mental health issues; explores how quiet law students and lawyers offer greatly needed proficiencies to the legal profession; and finally, presents a seven-step process to help introverted, shy, and socially anxious individuals amplify their authentic lawyer voices, capitalize on their natural strengths, and diminish unwarranted stress. The Introverted Lawyer provides practical, tangible steps for individual growth, as well as a sound platform to enable caring professors, law office mentors, and bar association representatives to educate themselves, their students, and developing lawyers about this important and often overlooked issue. Check out Heidi's website.
The Creative Lawyer: A Practical Guide to Authentic Profession Satisfaction – Michael F. Melcher
The Creative Lawyer is a self-help and career-management book for lawyers of all levels of experience. The book is a step-by-step method for imagining and realizing your path to personal and professional satisfaction. The book gives you a template for envisioning and managing your professional development, whatever path you choose, helps you to manage your career so that you can stay happy, and if you are not sure what you think about your career, it will give you a framework for sorting things out and moving forward amidst ambiguity. The book is well written, consistently practical, and filled with scores of illuminating exercises. "Professional satisfaction," the author writes, "is a question of creating what you want, not just waiting for it to appear." Read this ABA Journal article Michael wrote, "Why Thinking Like a Lawyer is Bad for Your Career."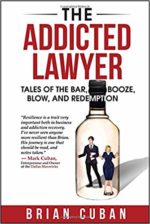 The Addicted Lawyer: Tales of the Bar, Booze, Blow, and Redemption – Brian Cuban
By Brian Cuban's admission, he was living a lie. With a famous last name and a successful career as a lawyer, he was able to hide his clinical depression and alcohol and cocaine addictions – for a while. Today, as an inspirational speaker in long-term recovery, Brian looks back on his journey with honesty, compassion, and even humor as he reflects both on what he has learned about himself and his career choice and how the legal profession enables addiction. His demons, which date to his childhood, controlled him through failed marriages and stays in a psychiatric facility, until they brought him to the brink of suicide. This is his story. Brian also takes an in-depth look at why there is such a high percentage of problematic alcohol use and other mental health issues in the legal profession. What types of therapies work? Are 12-step programs the only answer? Brian also includes interviews with experts on the subject as well as others in the profession who are now in recovery. The Addicted Lawyer is both a serious study of addiction and a compelling story of redemption. Listen to sample audio read by Brian Cuban. Check out Brian's website. Listen to the Legal Talk Network's podcast interview with Brian, "Brian Cuban on Overcoming Addiction and Stress."
The Best Lawyer You Can Be: A Guide to Physical, Mental, Emotional, and Spiritual Well-Being – Stewart L. Levine
In this multi-dimensional collection, you can find tools and information that enable you to have both a successful career and a happy, satisfied life. These tools will teach you how to harness the transformative power of being more relational and less transactional. The earmark of happy lawyers is the development of emotional intelligence, resilience, and mindfulness practice, writes Levine. The book provides the keys to the kingdom, what is essential to thrive in the competitive environment of lawyering. The material comes from recognized experts who provide step-by-step behavioral guidance of what you need to do. The material is easily accessible. Each chapter has a summary and conclusion. Listen to this ABA Journal podcast interview with Stewart, "How to Avoid Burnout and be "The Best Lawyer You Can Be.'"
Addicted to Busy: Your Blueprint for Burnout Prevention – Paula Davis Laack, J.D.
Being busy has become a badge of honor that is glorified in legal profession. Busyness is equated with having intrinsic worth and value, but it can become toxic when it loses its purposefulness. This e-book by lawyer Paula Davis Laack talks about the factors that give rise to our Addicted to Busy culture, and how the stress associated with constantly doing can lead to burnout. In this e-book, you will find: the 3 dimensions of burnout and the burnout formula; specific physical, psychological and behavioral warning signs of burnout: a blueprint for burnout prevention – the framework to help you prevent burnout and to recover from it; and more than 10 research-based skills to help you minimize perfectionism, build hope and much more. Check out Paula's website. Read her recent article for Forbes, "What Resilient Lawyers Do Differently
Lincoln's Melancholy: How Depression Challenged a President and Fueled His Greatness – Joshua Wolf Shenk
Shenk relates Lincoln's symptoms, including mood swings and at least two major breakdowns, and offers compelling evidence of the evolution of his disease, from "major depression" in his twenties and thirties to "chronic depression" later on. Shenk reveals the treatments Lincoln endured and his efforts to come to terms with his melancholy, including a poem he published on suicide and his unpublished writings on the value of personal—and national—suffering. By consciously shifting his goal away from personal contentment (which he realized he could not attain) and toward universal justice, Lincoln gained the strength and insight that he, and America, required to transcend profound darkness. This is one of my favorite books. We tend to forget that Lincoln was a lawyer well before becoming President. This is truly an inspirational story. Listen to audio sample read by the author. Check out Joshua's website. Read this article he wrote for The Atlantic, "Lincoln's Great Depression."
Girl Walks Out of a Bar: A Memoir – Lisa Smith
Girl Walks Out of a Bar explores Smith's formative years, her decade of alcohol and drug abuse, divorce, and her road to recovery while a lawyer. In this darkly comic and wrenchingly honest story, Smith describes how her circumstances conspired with her predisposition to depression and self-medication in an environment ripe for addiction to flourish. When her close-knit group of high-achieving, friends celebrate the end of their grueling workdays with alcohol-fueled nights at the city's clubs and summer weekends partying at the beach the feel-good times can spiral wildly out of control. Listen to a sample audio read by the author. Check out Lisa's website. Listen to this HuffPost interview with Lisa, "Coming Out About Your Addiction with Lawyer Lisa Smith."
Are there books you would like to recommend?  Share them with readers through the "comments" bar below.