Judge Shane Marshall encourages young lawyers to share their experiences with mental illness.  Read the Story
According to Legal Week, 82 percent of partners and senior lawyers at leading U.S. and U.K. law firms think their long hours at work are hurting their health.  Read the News
Getting things done at work is a top priority for any lawyer. This is all the more so when a lawyer is suffering from clinical depression because it becomes harder and harder to be productive: stacks of paperwork become bigger stacks of paperwork, deadlines begin to feel like death sentences when not completed and time is running out, and the e-mail box is overflowing like a sink onto a cold, tiled floor.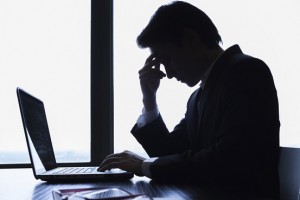 The failure to fix a lack of productivity spirals folks out of control. Not accomplishing things makes their work problems seem, essentially, unsolvable. Depressed lawyer can't seem to remember a time before their depression when they were on top of their game. Author Andrew Solomon writes:
"When you are depressed, the past and future are absorbed entirely in the present moment, as in the world of a three-year old. You cannot remember a time when you felt better, at least not clearly, and you're certainly cannot imagine a future time when you will feel better".
A Tsunami of Self-Condemnation
When you combine lack of productivity and disorganization, you have a recipe for toxic self-condemnation: "I got nothing done this morning." "I feel useless and out of control". They feel incompetent in a profession that prizes competence because they blame themselves for not having the motivation to check things off their list of things they need to  get done. What they fail to see, is not they're inept or lazy. They're sick.
Depression creates a 'brain fog" that prevents anyone within its gravitational pull from getting much done; a psychic disorientation that feels like you've been kicked in the head by a horse. The reason is that there is actually decreased metabolic functioning in the frontal lobes of the brain, which are responsible for initiating behavior. So even though there's a desire to press on the gas to get things done, our brains are running on vapors.
Well Done
Lawyers feel desperate to become unstuck – to get traction and get back on the path of productivity. In the insightful book Get It Done When You're Depressed, the authors are dead-on about the types of things depressives tell themselves when trying to get things done – and how this actually leads to things not getting done: (1) You have decided that there's no use in starting if you don't have the desire for the project, (2) you search for the feeling of wanting to get something done even when you know that lack of motivation is a normal symptom of depression and (3) you wait so long to get a good feeling about what you need to do that you never even get started.
Given this, how can we possibly get things done when depressed? Is it even possible? The three points I took away from the book are:
1.   Keep working until you do feel even a small sense of accomplishment, and hold on to that as you finish a project.
2.   Work no matter what so you can go to bed with a sense of accomplishment.
3.   As you start to implement these ideas, remember to take it slow and have realistic expectations.
Remember, depression doesn't want you to do anything and never will. It's an inert illness, not an active illness. If you wait until you 'feel like it' to start something, you'll wait forever.
Lawyers are perfectionists and set high expectations on themselves. But that doesn't work with depression; it only serves to fuel the illness because you cannot get everything done that you customarily had gotten done when not depressed. So, be kind to yourself.
In a past blog, My Desk, My Enemy: 6 Helpful Ways to Get Organized, I wrote further about the nuts-and-bolt of how to get things done when depressed. Check out the blog for practical things you can put to use in your law practice and life.
Copyright by Daniel T. Lukasik
If you had to take off a couple of weeks because you had pneumonia, you would simply tell your boss that you could not work because you had pneumonia. But what do you say when your depression prevents you from working? How do you call in sick with depression?  Read the Blog
The demands of work at leading law firms in the United States and United Kingdom are quantified in a new survey that found 22 percent of senior lawyers and partners work every weekend, and more than 10 percent work an average of 70 or more hours a week.  Read the Story
From National Public Radio, a story about how the crash into the mountainside by a Germanwings pilot who suffered from depression has made it much harder on those who suffer for it to disclose it at work. Read the News
The litigators have become the litigated.  A former city lawyer has sued the city Law Department for wrongful terminationc charging that her supervisors engineered her ouster thanks to a diagnosed case of severe postpartum depression.  Read the News
Owen Ashton blogs that rather try to eliminate our weaknesses, we should focus in on our strengths to weaken depression and anxiety.  Read the Blog
Why did you write your newest book, Vital Signs: The Nature and Nurture of Passion?
Because it was a natural evolution from the book that preceded it, Callings: Finding and Following an Authentic Life, and because I'm just fascinated by how people manage to hold on to their vitality and life force against all the downward-pulling forces of life and culture.
In the Introduction to Vital Signs, you write that the book is geared towards "being in love with life" versus your first book, Callings, that addressed "doing what you love". In what ways are the two the same thing? In what ways are they different?
They're similar in that doing what you love is among the active ingredients of being in love with life, and being in love with life is a mindset that lends itself to looking for ways to stay that way, and doing what you love is one of them.
As for distinctions between them, I look at the two books this way: Callings:Finding and Following an Authentic Life was more about finding a passion, and Vital Signs: The Nature and Nurture of Passion is more about living passionately. Developing the skill, the stance, of passion that can inform all arenas of your life, not just the vocational.
In your mind, can a failure to live a passionate life cause and/or contribute to true clinical depression? How so? Can you give us any examples?
I believe so, yes. For starters, if you're not expressing your passion and vitality, whether in your work or love life, creative or spiritual life, then you're probably suppressing it, or repressing it, or depressing it, which all mean the same thing: pushing it down. And whatever we refuse to express will either explode or implode, and I think depression is a form of imploding. Here's an example from my own files:
I'm not generally prone to depression, but a couple of years ago I had a nasty bout of it. I was sleeping too much, feeling lazy, bored, disconnected from everything and everyone, lacking initiative but restless. I just felt profoundly off, and I couldn't get to the bottom of it.
Until I had a dream of being chased by an enormous black dragon—the size of a T-rex with wings—and feeling like a rabbit who couldn't find a hole to duck into.
I tried fighting off the dragon with a safety pin, and finally, out of sheer fright (and, I remember, a distinct sense of incredulousness that I wasn't going to be rescued at the last second, like in the movies), I woke up. Literally woke up from the dream.
My interpretation of the dream was that the dragon was my writing. My real writing. Not the academic-style stuff I'd been doing a lot of at that point, but the freewriting practice I meant to be doing alongside it, and wasn't. In a sense, I was playing it safe with all that cautious, academic writing—thus the absurdly inadequate safety-pin defense—when I should have been doing more passionate, intuitive writing.
But the dragon woke me up, literally and figuratively, and over the next few months I started doing my real writing again—and here's the punch line: the boredom and depression lifted.
That experience reminded me how closely related depression and repression can be.
In your experience, what are some of the reasons people don't follow their passions?
One reason is that people often put security before passion. There's nothing wrong with security, but when it routinely takes precedence over your passion and aliveness, you're courting disaster (a word that means "against one's stars.") I once heard it said that heroism/heroinism can be redefined for the modern age as the ability to tolerate paradox. To hold two seemingly contrary ideas/impulses/energies/beliefs inside you at the same time and still retain the ability to function. In this case, passion and security. Which don't cancel each other out. They're both true. We need both of them. And they both need to be brought to the bargaining table to hammer out a treaty that's going to serve them both, rather than trying to stuff one or the other under the floorboards just to be rid of the tension.
Another reason involves the kinds of suppression and repression that are common to certain styles of parenting, schooling, gendering, bibling, and corporate enculturation, where you're encouraged to leave maybe the best parts of you out in the parking lot when you punch in, like your emotional life, your personal life, even your spiritual life. I recently consulted with a woman who told me that when she was growing up, her parents sent her to her room for any displays of "negative emotions," like tears, anger or frustration. That is, punished her. Banished her.
So it's no surprise that at 40, after a lifetime of repressing half her emotional
repertoire, she's feeling blocked from being her full powerful self, the one she's going to need in order to be the healer she intuits herself to be. She quite rightly refers to her mission at 40 as "soul retrieval."
What tips can you give our readers about how they can begin to follow their passions?
For starters, it might be useful to begin identifying where you lose it. Where it leaks out of your life. Which routines, relationships, involvements or beliefs drain your energies, and which ones revitalize them. Maybe it's a job that sucks the life out of you, or a relationship in which you feel like a ghost of your full vital self, or your eager, capable mind being put in dull circumstances, or any involvement that's literally de-meaning. Lacking in any sense of meaning or purpose.
Maybe it's socializing out of guilt or obligation, driving in rush hour traffic when you don't have to, television, letting yourself be trapped by talkaholics, or doing your own taxes rather than farming it out.
Secondly, it's important to understand that passion can be cultivated.
Turned on as well as turned off. It's not one from the "either you've got it or you don't" department. And cultivating it happens most readily at the level of the gesture and the moment, not the 5-year plan or the extreme makeover. Though even at the micro-level, action is ultimately required. Especially spontaneous action. The equation is: ready, fire, aim.
I was sitting around with some friends one evening recently when one of them said, "You know what the problem is? We're not outrageous enough." When I asked him what he would do if he were to be more outrageous, he thought for a moment, then reached up and swept his hair from middle-parted and slicked back to side-parted with a cowlick dangling from his forehead—instantly transforming him from Richard to Ricardo. And he said, "I'd come into work like this."
The point is: start with the subtlest impulse to express yourself and act on your passions, and build from there. Begin identifying little moments of choice that lead you either toward or away from your sense of aliveness.
I think it's important to distinguish, also, between healthy and unhealthy passion. In other words, there's a difference between being called and being driven, and not all passions should be acted on. There's something called harmonious passion (flexible persistence toward an activity and more of a flow state) and obsessive passion (persistence at any cost, the passion controlling you rather than the other way around, and self-esteem and identity all wrapped up in performance).
There's also primary and secondary motivation. Doing something for it's own sake—for the charge or challenge of it—and doing something for a payoff (whether money, power, sex, fame, or attention).
And there's a pretty simple test to determine which one is in the driver's seat: when the payoffs dry up, do you still do the work? Are your passions still intact?
Gregg Levoy  is the author of Vital Signs: The Nature and Nurture of Passion, and Callings: Finding an Authentic Life – rated among the "Top 20 Career Publications" by the Workforce Information Group and a text in various graduate programs in Management and Organizational Leadership.
He is a lecturer and seminar-leader in the business, educational, governmental, faith-based and human-potential arenas, and has keynoted and presented workshops at The Smithsonian Institution, the EPA, Microsoft, and Amerian Express, to name a few.  He is also a frequent media guest on ABC, CNN, NPR, PBS, and others.
Simply getting to work when you're depressed can feel like an impossible task.  Read the Blog